"Into the Clouds: The Race to Climb the World's Most Dangerous Mountain" by Tod Olson follows the three attempts made by Charlie Houston and his team in 1953 to climb K2, a mountain with a 29% fatality rate for the climbers who attempt to summit her (compared to Everest's 6.5%). Houston headed an 8-man British-American expedition to summit K2 that ultimately ended in disaster. Olson's book covers the horrific situations that faced the men on the mountain as weather pinned down the expedition for days. From destroyed tents, blood clots, frost bite, missteps that led to parts of the team nearly falling off the mountain, delirium, and an avalanche that ultimately led to the death of Art Gilkey, Olson's book expertly blends science, history, and real life survival and horror for a middle school audience.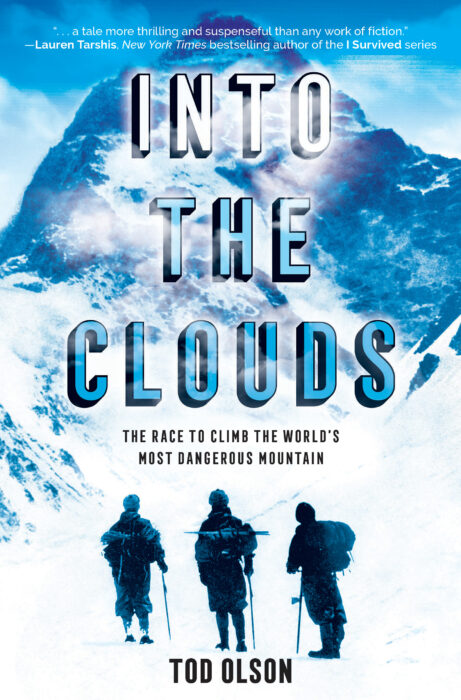 3 Delights
Olson's text is descriptive and SUPER engaging. When things are exceptionally bad for Houston's team, Olson's text has the reader on the edge of their seat.
The text doesn't shy away from some true horror – Olson navigates the brutality of the mountain and the "ick" factor of things like frost bite without getting TOO gross for a middle school reader. But he doesn't pull punches either (see Defect #1)
Readers will walk away with a better understanding of: 1) the Himalayas and their diverse geography, 2) mountaineering (and how expeditions are sometimes YEARS in the making and not just something that people do on a whim), and 3) teamwork and the demands of leadership in death-defying situations.
3 Defects
This book may gross out or freak out some readers. Olson keeps the horror middle school appropriate, but for some readers, it may be too much.
Occasionally, as an adult reader, I wanted more information about certain things. I'm unsure if this would be true for the average middle school reader, but for lovers of adventure and/or climbing, they may wish for more "in depth" coverage. I feel like Olson aimed for the average middle schooler, though, which is where it SHOULD be focused.
It wasn't immediately obvious to me that this book was talking about a 1953 story – I don't know if I just missed the date when reading (entirely possible), but it took me longer than it should have to realize how LONG ago this expedition was!
Overall, this was a great, well rounded story!